And now... Week Twenty!
Week 20 - 2015 Version
I'm very excited to share today's update and variation. Both are simple, but fun!
The update includes a larger flame as well as a handle on the side of the candle, not included in the original pattern. If you would rather not have the holder, you can simple substitute a piece of background fabric.
This week's variation is one I've been looking forward to sharing since the beginning!
It's very simple, but I think also really fun - the small blue fire that Hermione conjures and then carries around in a jam jar. That's always been such a vivid image to me and I'm excited to be about to share it as part of the 2015 update!
The variation below is included in the pattern update.
***Variations: Dark Arts Colors, Hermione's Jam Jar ***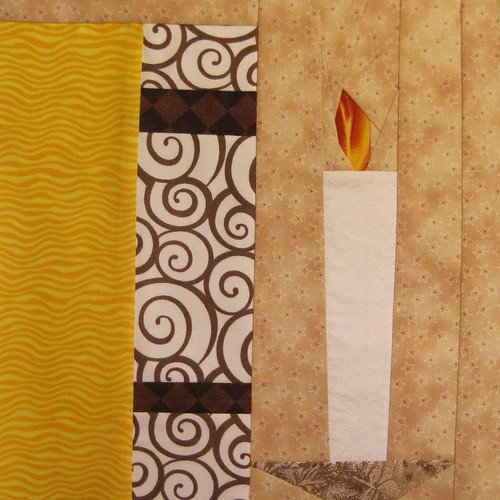 Welcome to our special
Harry Potter-themed prize donated by me for sharing your 2015 PoD photos with our Fandom In Stitches
Flickr group
!
Winner to be announced Tuesday, June 2, 2015!
Since this prize is coming out of my own stash, only photos of blocks made from my original patterns (unaltered/unedited) PoD are eligible to win.
Why share via flickr? It's the best way for me to post your photos right here on
fandominstitiches.com
!
Every Tuesday, we have a virtual show & tell called
Tuesday Photos
so everyone following along can see an entire week's picture in one place every Tuesday.
The May winner will receive a fat quarter of licensed Harry Potter themed fabric, collectible Order of the Phoenix bookmark set, a Fandom in Stitches button and enough Jelly Bean fabric for his or her Project of Doom quilt!
If you've participated in events like this with me before, then you know that I LOVE signature quilts! I'd like to invite everyone participating in the
2015 Project of Doom Quilt Along
to share a block for a special 2015 Signature Quilt. Names can be hand or machine embroidered, printed fabric, fabric pen, marker, or stenciled with fabric paint/pen, etc. are all acceptable. Please, no iron-ons or transfers.
This quilt is my way of remembering everyone that quilted along in 2015!
Fandom In Stitches and it's designers do not hold copyright on any of the fandom titles represented on this site. Respective Designers reserve copyright on patterns only and request that out of respect for the fandoms we love, that you use them for personal and non-profit reasons only. The Designers at Fandom In Stitches receive no payment for any of the patterns posted and expressly forbid resale.