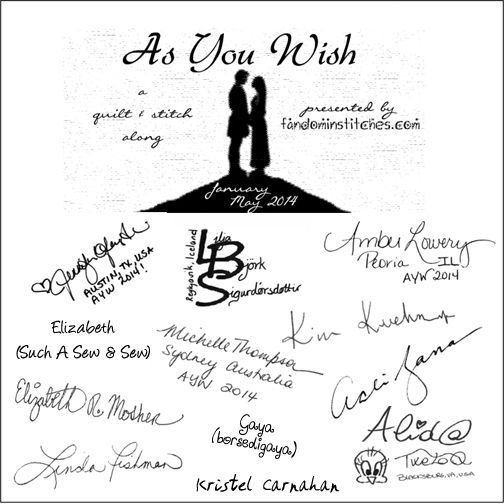 Even though this is the last of the Quilt & Stitch Along patterns, this is not the end of As You Wish!
Be sure to read through the following information and then scroll down to the bottom of this post. There's a lot here to help wrap everything up and we don't want you to miss a thing!
First of all, as a very special thank your for joining us for the
As You Wish Quilt & Stitch Along
, our Designers would like to share a little something special that we hope that each of you will be able to use in your Princess Bride quilt! Use
printable fabric
,
iron-on transfers
, or for the ambitious among you, hand embroidery, and add this beautiful
Signature Block
(at the top of this post) to your
As You Wish
quilt as a label or 5" block in the layout!
And now, without further ado, two very special characters in one installment!
Miracle Max & Valerie by Alida / TweLoQ
7" paper pieced & embroidered
Miracle Max & Valerie Quote designed by Kim Kuehn
7" finished, hand embroidered

Pattern Difficulty is rated out of 5.
Both patterns are in one easy-to-print PDF document. For best results, print without scaling.
As part of this True Love inspired event, we offer you two options for the blocks presented over the course of As You Wish!
Quilt sizes and fabric amounts are included in each respective pattern.
FINAL LAYOUTS ARE NOW AVAILABLE!
(scroll to the end of the documents for final layout)


TITLE EMBROIDERY:
Want to bring the whole thing together? Consider including the embroidered title (shown above) on your quilt!
Get it here
!
As You Wish has been

a combined effort of the following designers. Share your love and appreciation by visiting their blogs!
Facebook | Facebook Group | Twitter | Tumblr | Flickr | Bloglovin' | Pinterest | Google+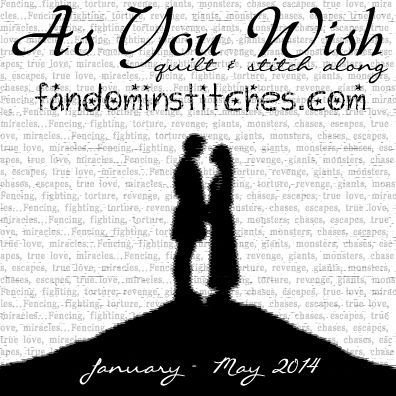 Fandom In Stitches and it's designers do not hold copyright on any of the fandom titles represented on this site. Respective Designers reserve copyright on patterns only and request that out of respect for the fandoms we love, that you use them for personal and non-profit reasons only. The Designers at Fandom In Stitches receive no payment for any of the patterns posted and expressly forbid resale.