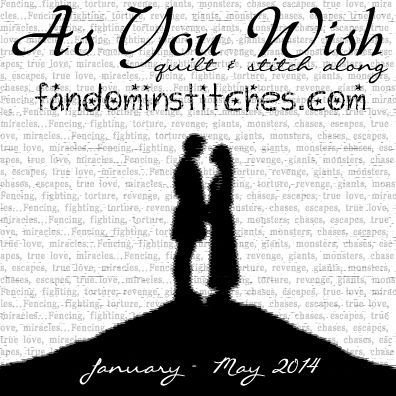 Every other Wednesday through May, we will present two patterns, one paper pieced and one hand embroidered, each designed by Fandom in Stitches Designers.
We will announce the AYW Design Invitational Rules on April 9. We encourage you to save your original patterns and designs for this special event!
And now, the gentle giant, Fezzik!
7" paper pieced & embroidered

Fezzik Quote designed by Kim Kuehn
stitched by Jennifer Ofenstein
7" finished, hand embroidered

Pattern Difficulty is rated out of 5.
Both patterns are in one easy-to-print PDF document. For best results, print without scaling.
As part of this True Love inspired event, we offer you two options for the blocks presented over the course of As You Wish!
Each two blocks (for example, the two Westley designs in this post) can be made into a unit to create one larger block. Those blocks will be combined to make one of two quilts, the Pieced Quilt on the left or the Book Quilt on the right. Each layout includes optional blocks to add your own designs or to include designs from the upcoming Design Invitational.
Quilt sizes and fabric amounts are included in each respective pattern. Final piecing instructions will be posted in May.
As You Wish has been

a combined effort of the following designers. Share your love and appreciation by visiting them online:
Fandom In Stitches and it's designers do not hold copyright on any of the fandom titles represented on this site. Respective Designers reserve copyright on patterns only and request that out of respect for the fandoms we love, that you use them for personal and non-profit reasons only. The Designers at Fandom In Stitches receive no payment for any of the patterns posted and expressly forbid resale.