Month 12: September 5, 2012
We are just two months away from finishing There and Back Again! There will be a new pattern in September, with the final pattern being posted in October. The October post will also include the quilt layout. Are you excited? We are!
Future events include a HUGE 2013 project hosted by Lilja, and a Homestuck Quilt-Along, coming on the heels of TABABOM!



Reminder: The four TABABOM designers, Jennifer, Michelle, Lilja and Schenley, would be honored if you would consider sharing a signature block with each of us to help us commemorate your participation in

There and Back Again

.






In return for your signature blocks, the TABABOM Designers will donate $1 for each block received (per designer) to the Red Cross in our respective countries.
August Flickr Participation Prize
Share any photo with our flickr group during August for a chance to win a Hogwarts flash-drive key chain case, courtesy of
liljabs
and a Fandom In Stitches bookmark!
New On Fandom In Stitches
(click on the image to go to the pattern)
There and Back Again Monthly Pattern Posts:

by Amber's Originals



bu TyzyPluis



by Karen in Tucson



by Mormormaxi



by borsedigaya



by Melefim

HARRY POTTER
Have you finished a Project of Doom quilt? There's a flickr group for that!


by accroquilt

COMICS/GAMES/TECH


by snowie44

Thank you for sharing your FiS project photos for a chance to win one of our monthly prizes! There and Back Again photos are eligible for both prizes, all other project photos are eligible for the monthly flickr prize. Only Fandom In Stitches' project photos submitted through our flickr group are eligible to win our monthly prizes, so be sure to share yours. Winners are contacted viaflickr. Please note that prizes not claimed after 45 days will go back into the FiS Prize Pot!
Love
Fandom In Stitches
? Spread the word!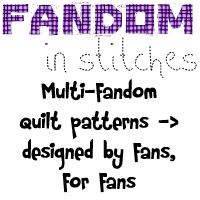 Any questions? Leave a comment or contact us!
Clicking through the ads on this site helps pay for Fandom In Stitches to exist...thanks for your support!