Gandalf! If you had heard only a quarter of what I have heard about him, and I have only heard very little of all there is to hear, you would be prepared for any sort of remarkable tale. Tales and adventures sprouted up all over the place wherever he went, in the most extraordinary fashion.
~The Hobbit, ch.1
Gandalf, by Schenley Pilgram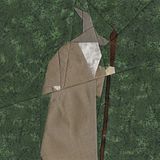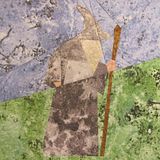 pieced by (L-R)

Lilja Björk Sigurdórsdóttir, Michelle Thompson and Jennifer Ofenstein
Welcome to the very first month of There and Back Again, a Hobbit Block of the Month (BOM)!
Starting today, and on the first Wednesday through November 2012, we will share a paper pieced quilt pattern that will all go toward one awesome Hobbit-themed quilt! At the end of the BOM, you will have 13 unique blocks and we will share finishing instructions, which includes the layout that we have created for this completely awesome fandom quilt! Fabric choices are your own.
There And Back Again
Block of the Month
There and Back Again is a collaborative effort between four Fandom In Stitches designers, Michelle Thompson, Lilja Björk Sigurdórsdóttir, Schenley Pilgram, and Jennifer Ofenstein.
This month's pattern has been designed for your stitching pleasure by Schenley Pilgram.
Read more about FiS Designers.
All patterns are paper pieced. A little lost? We have a full list of tutorials and other helpful information about paper piecing on our Help! page.
But wait, there's even more awesome!
You can join us on our adventure by posting your photo of each month's block to the Fandom In Stitches flickr group. The first Tuesday of each month, a winner will be chosen at random from those participants that contributed photos. That winner will receive the prize donated by our awesome monthly sponsors!
Meet our October sponsor, foxwise!
In the foxwise shop, you can find

hand-stamped jewelry inspired by fantasy and science fiction (e.g. The Hobbit, LOTR, Harry Potter, Doctor Who, etc).
What better than a gorgeous hand-stamped bracelet with a quote right out of The Hobbit? This lovely bracelet says "there is nothing like looking, if you want to find something," which is from Chapter 4, Over Hill and Under Hill.
You still haven't read The Hobbit?