There were lots of clothes, too, hanging on the walls - too small for trolls, I am afraid they belonged to victims - and among them were several swords of various makes, shapes and sizes. Two caught their eyes particularly, because of their beautiful scabbards and jewelled hilts.
Gandalf and Thorin each took one of these; and Bilbo took a knife in a leather sheath. It would have made only a tiny pocket-knife for a troll, but it was as good as a short sword for a hobbit.
The Hobbit, Chapter 2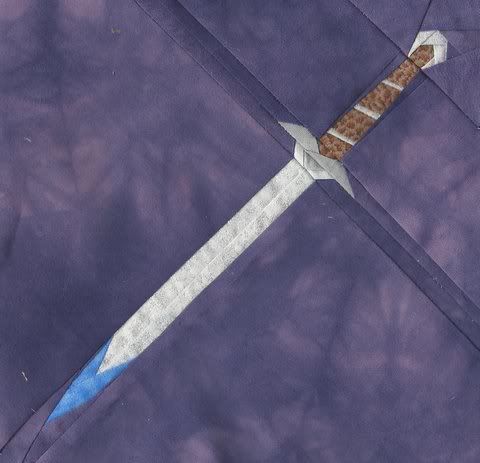 Sting, by Michelle Thompson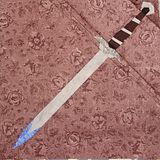 pieced by (L-R) Schenley Pilgram, Lilja Björk Sigurdórsdóttir and Jennifer Ofenstein
The road goes ever on, and this time, it led Thorin and Company right into a troll camp! With a little help from Gandalf, our friends made it away with their lives, and a few new treasures.
There And Back Again
We hope you enjoy this month's block, Sting, designed for your piecing pleasure by Michelle Thompson.
There and Back Again Monthly Pattern Posts:
All TABABOM patterns are paper pieced. A little lost? We have a full list of tutorials and other helpful information about paper piecing on our Help! page. If you have questions about the site or our Block of the Month, please check ourFAQ page.
You can join us on our adventure by posting your photo of each month's block to the Fandom In Stitches flickr group. The first Tuesday of each month, a winner will be chosen at random from those participants that contributed photos. That winner will receive the prize donated by our awesome monthly sponsors!
Erika is a watercolor artist specializing in Tolkien and fantasy artwork.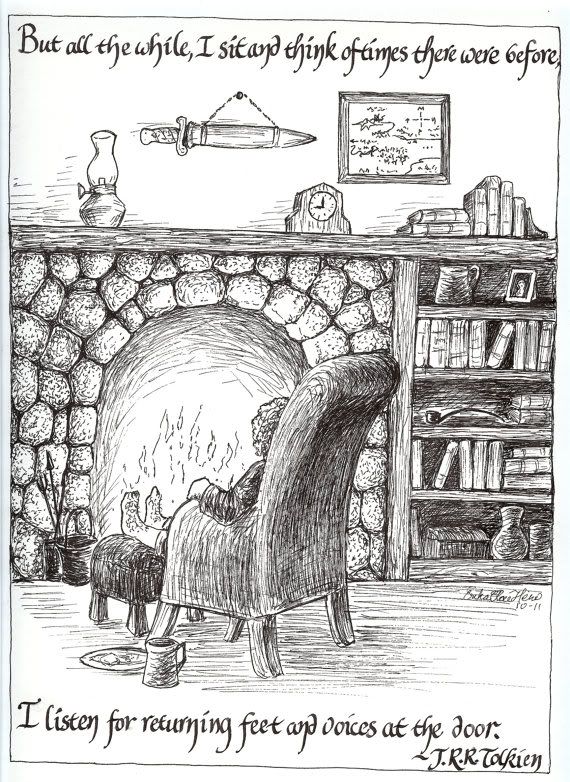 Our lucky winner will receive a set of
Bilbo's Reverie notecards
! From Erika's shop,
"

This beautiful set of four 4 1/4" x 5 1/2" notecards feature a detailed pen-and-ink image of Bilbo resting by his fireside on a cozy evening after his adventures."
It's only month 4, there's plenty of time to catch up!