5" paper pieced
2014 Update
Earlier this month
, I mentioned that I'd updated oodles of my Harry Potter patterns.
For the most part, since these are all patterns you've seen before, I did the updates quietly, editing patterns and uploading new files without mentioning it here on
Fandom In Stitches
.
Several of you have mentioned to me that you have some of the older patterns bookmarked for future use, so I thought it would be useful to give you a rundown of which patterns are freshly updated.
I updated A LOT of patterns, so we'll go one category at a time, probably once a week until we've covered them all.
Today, we have patterns from the
Hogwarts
Category.
5" paper pieced
2014 Update
5" paper pieced
2014 Update
Other patterns previously updated in this category:
You can find these (and many more!)
free Harry Potter-inspired
Share photos of your blocks and other projects you have made using
Fandom In Stitches
patterns with our
flickr group
for a chance to win one of our fabulous monthly prizes! You receive one entry for each project. Only photos posted to
flickr
are eligible to win.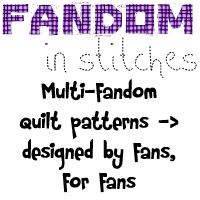 Fandom In Stitches and it's designers do not hold copyright on any of the fandom titles represented on this site. Respective Designers reserve copyright on patterns only and request that out of respect for the fandoms we love, that you use them for personal and non-profit reasons only. The Designers at Fandom In Stitches receive no payment for any of the patterns posted and expressly forbid resale.