Welcome back to
Throwback Thursday
on
Fandom In Stitches
! Each week, we revisit our fandom roots by sharing an updated version of Harry Potter patterns from way back before FiS was
A Thing
!
This week we share what has always been a bittersweet design for me: Dumbledore's Half-Moon Spectacles. I designed his block after reading The Lightning Struck Tower.
Like all patterns shared during Throwback Thursday, this pattern was originally shared on
Harry Potter Paper Piecin
g, a
Livejournal
community, and the predecessor to
Fandom in Stitches
.
For the most up-to-date pattern links for all patterns,
visit our pattern archives using the menu at the top of every page!
Updated 2014,originally designed ~2006 designed
by Jennifer Ofenstein
5" paper pieced
Originally posted to Harry Potter Paper Piecing, August 2009:
Dumbledore's eyes were closed; but for the strange angle of his arms and legs, he might have been sleeping. Harry reached out, straightened the half-moon spectacles up on the crooked nose and wiped a trickle of blood from the mouth with is own sleeve.
Half-Blood Prince
, British Children's hardback ed., pg 568
Dumbledore's Glass appeared in my first Harry Potter quilt, the project that started all this fandom quilting madness! My Magical Lens, 2005 - 2007

And?
and will always be FREE.
Share photos of your blocks and other projects you have made using
Fandom In Stitches
patterns with our
flickr group
for a chance to win one of our fabulous monthly prizes! You receive one entry for each project. Only photos posted to
flickr
are eligible to win.
Facebook | Facebook Group | Twitter | Tumblr | Flickr | Bloglovin' | Pinterest | Google+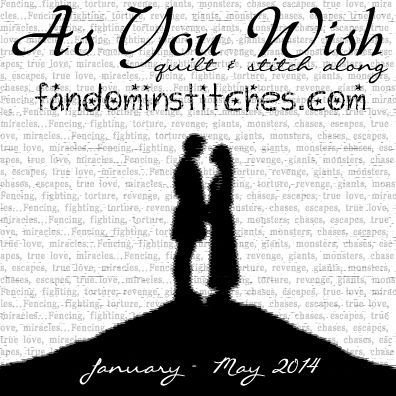 Fandom In Stitches and it's designers do not hold copyright on any of the fandom titles represented on this site. Respective Designers reserve copyright on patterns only and request that out of respect for the fandoms we love, that you use them for personal and non-profit reasons only. The Designers at Fandom In Stitches receive no payment for any of the patterns posted and expressly forbid resale.