Fandom In Stitches
is still an infant of a website, but we're growing and hope to keep the free patterns coming for years to come. A huge THANK YOU to everyone that follows, likes, +1, tumbles, tweets and generally lets the world know you enjoy
FiS
!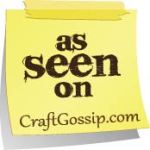 This week found posts about
Fandom In Stitches
and our talented designers on both
Craft Gossip
and
Quilt Inspiration
. Thanks to two awesome sites for sharing the fandom love!
Have you seen FiS featured online?
Let us know
!
maryliz7
posted lots of Harry Potter blocks, and a couple of great Doctor Who blocks, too!
suziecurls posted two great versions of Harry's Glasses
Free Harry Potter Patterns
Free Doctor Who Patterns