The Burrow, by Jennifer Ofenstein
Almost ALL of the
Harry Potter
patterns are up to date. I say "almost" because the Alphabet patterns are not yet posted, but all things considered, I think that's pretty darn good.
The
Harry Potter page
is the biggest of all the fandom pages, with the most designers making an appearance on one page, the most categories, and generally the most awesome. That's because that's what the group of designers here started out as:
Harry Potter Paper Piecers
.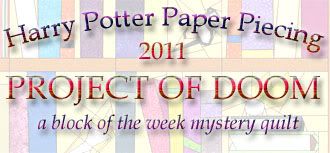 We still meet once a week for the
Project of Doom
, a block of the week project currently in it's 19th week. Looking for a great place to start? We'd love to have you visit and join in! The Project of Doom will eventually be archived here on
Fandom In Stitches
for easy searching and quilty enjoyment for quilters yet to come.
On a related note, I have to share how crazy my person day was today! Here's a sneak peek:
Here's to many, many quilty days to come here on
Fandom In Stitches
and all across the quilty fandom!